Cringey Scenes In AFCON As Mauritania Has Wrong Anthem Played 3 Times Before Giving Up Altogether
Someone had a really embarrassing day on aux.
The Africa Cup of Nations has been the gift that keeps giving in terms of content. We've seen young fans go wild, a goalkeeper earning the respect of his entire country and president, a game ended early TWICE and now a Mauritania national anthem fail.
Prior to Wednesday's game between Mauritania and Gambia the person working the audio botched the national anthem. The poor person who was on aux made the brutal mistake of playing Mauritania's old national anthem. 
The country changed national anthems in 2017 after it was determined the old anthem was impossible to sing. Here was the moment when the Mauritania national team heard the old song played … three times in-a-row.
Mauritania National Anthem Fail
What is going on today⁉️

The wrong national anthem was played for

#TeamMauritania

ahead of their game vs

#TeamGambia

The Mauritania captain refused to sing it with nothing in the background and just applauded

Watch the game live now on beIN SPORTS!#AFCON2021 pic.twitter.com/LFemcmZkey

— beIN SPORTS USA (@beINSPORTSUSA) January 12, 2022
When someone asked the team to sing the correct anthem acapella, they rightly refused and decided to get on and play the game. It's hard to decide if this moment is funny, cringey, sad or all the above. This feels like something straight out of Impractical Jokers.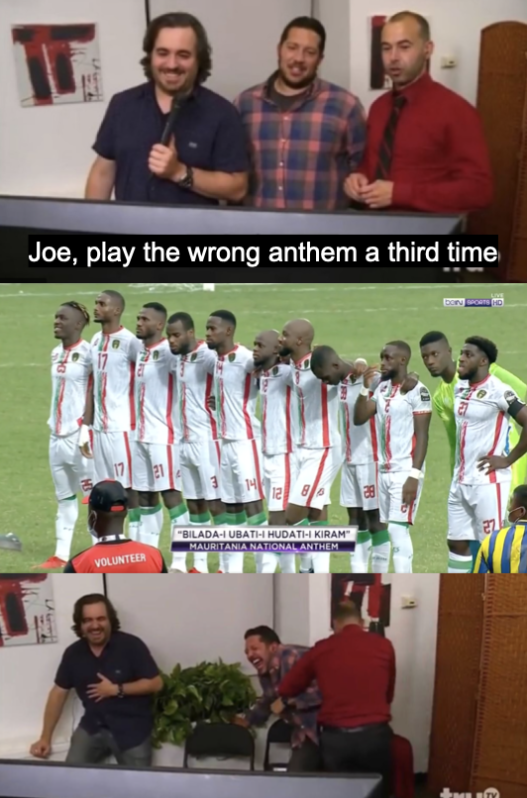 This isn't the worst national anthem fail ever. There was the time when a Kazakhstan athlete was forced to listen to the Borat spoof version and the time "Numb" by Linkin Park accidently played instead of Malta's anthem.
Gambia went on to win with the tournament's favorite score line, 1-0 (nine of the first 12 games have finished 1-0).