Sydney Leroux is a proven, talented goal scorer for both club and country. The Orlando Pride and former USWNT star is feared by defenders and revered by teammates. But more than that, she's got one of the most fun Instagram pages in the world — primarily because of all the amazing costumes she's worn over the years, from video game characters to '90s icons. 
First with fellow USWNT star Alex Morgan and more recently with USMNT and MLS forward Dom Dwyer, her former husband, Leroux has posted plenty of pictures of her and her friends and family in costume. Dom and Sydney are no longer together, but their costumes remain a lasting legacy of their relationship — well, that and their two kids, Cassius and Roux.  
Sydney Leroux is also one heck of a soccer player, having scored 35 goals for the USWNT at a rate of nearly a goal every other appearance. She once scored five goals in an Olympic qualifying match against Guatemala and she won a World Cup with the U.S. in 2015. 
But perhaps the one thing Sydney Leroux likes to do more than score goals is dress up in costumes, often with her adorable children.
Here are the 25 best Sydney Leroux costumes.
25 Best Sydney Leroux Costumes
25
Cheerleader
@sydneyleroux | Instagram
I assume every girl has dressed up as a cheerleader at least once in her life, right? Sydney Leroux played soccer for UCLA, scoring 57 goals for the Bruins. 
24
Cowgirl
@sydneyleroux | Instagram
Ready to rope 'n ride. Or at least listen to some country music. 
23
The Flintstones
@sydneyleroux | Instagram
22
Hamburger Shark
@sydneyleroux | Instagram
While Sydney isn't in this pic, they are definitely her costumes. Boss is looking super delicious as a cheeseburger and Koba is still learning how to swim as a shark. 
21
Pride Girl
@sydneyleroux | Instagram
Before Sydney Leroux even played for the Orlando Pride, she was full of pride. 
20
Mario Party
@sydneyleroux | Instagram
You may notice a theme that Sydney Leroux loves the Mario universe. This is the first of three Mario-related entries.
19
Flapper
@sydneyleroux | Instagram
Cassius celebrated his first birthday by dressing up with his mom at a 1920s-themed party. Sydney was a flapper while Cassius rocked it as Leonardo DiCaprio. 
18
Clown
@sydneyleroux | Instagram
An oldie but a goodie. Sydney's mom probably went a little too heavy on the face paint that Halloween. 
17
Akha
@sydneyleroux | Instagram
Sydney and Dom donned some traditional garb with the Akha tribe in Asia. 
16
Serena Williams and Drake
@sydneyleroux | Instagram
For Halloween 2015, Sydney dressed up as tennis star Serena Williams and Dom went as Toronto Raptors fan Drake. 
15
Cow
@sydneyleroux | Instagram
A throwback to a younger Sydney Leroux from Halloweens long since past. Remember kids, drink your milk and you'll grow into a strong soccer star like Sydney! Or something. 
14
Mario Brothers
@sydneyleroux | Instagram
Sydney Leroux has been both Mario and Luigi. (Keep scrolling for Luigi.) 
13
Santa's Helper
@sydneyleroux | Instagram
We're just going to assume that's Dom under the beard and Sydney is his helper elf. We'd love to see those pups placed in stockings, hung with care, but they don't look too pleased to be posing. 
12
Christmas Tree
@sydneyleroux | Instagram
Another Christmas-themed costume, this one gets ranked higher for creativity, because anyone can be Santa.
11
Bride
@sydneyleroux | Instagram
That's still a costume, right? Sydney rocked her wedding dress while she married Dom. 
10
Killer Bride
@sydneyleroux | Instagram
The only thing better than a bride is a killer bride.
9
Little Red Riding Hood
@sydneyleroux | Instagram
I guess this is the more adult version of Little Red Riding Hood? I don't really remember the wolf giving her a bloody scar. 
8
Nicki Minaj and Lil Wayne
@sydneyleroux | Instagram
I don't even know what to say about this one. Lil Wayne is a fan of Ronaldinho, for what that's worth. 
7
Rihanna
@sydneyleroux | Instagram
6
Miley Cyrus and Robin Thicke
@sydneyleroux | Instagram
Alex Morgan and Sydney Leroux reenacting an MTV VMA performance. Personally, I prefer the fathers Billy Ray Cyrus and Alan Thicke, but you kids do you.
5
Gymnast
@sydneyleroux | Instagram
Sydney and Alex got into the Olympic spirit as Gabby Douglas and McKayla Maroney in 2012. 
4
Aaliyah and Tupac
@sydneyleroux | Instagram
On '90s night recently Sydney and Cassius dressed up as the dead singers Aaliyah and Tupac, the latter of which has never looked so cute (or menacing; that scowl is really something else). If you're too young to remember Tupac and Aaliyah, just look them up on YouTube. 
3
Aladdin
@sydneyleroux | Instagram
A recall of the classic Disney film "Aladdin," Sydney is looking sexy af as Princess Jasmine while Dom is of course the eponymous street urchin Aladdin and Cassius is his pet monkey Abu.
2
Mario Kart
@sydneyleroux | Instagram
For all the nerds out there, the Dwyer-Leroux family went full Mario Kart for Halloween in 2017. Dom was Mario, Sydney was Luigi and Cassius was Yoshi, because we all know Yoshi is the fastest (but Toad is the best).
But the family didn't stop there: The dogs joined in too. Their little Chihuahua named Boss dressed as Princess Peach while the goldendoodle is Wario because someone's gotta be the bad guy.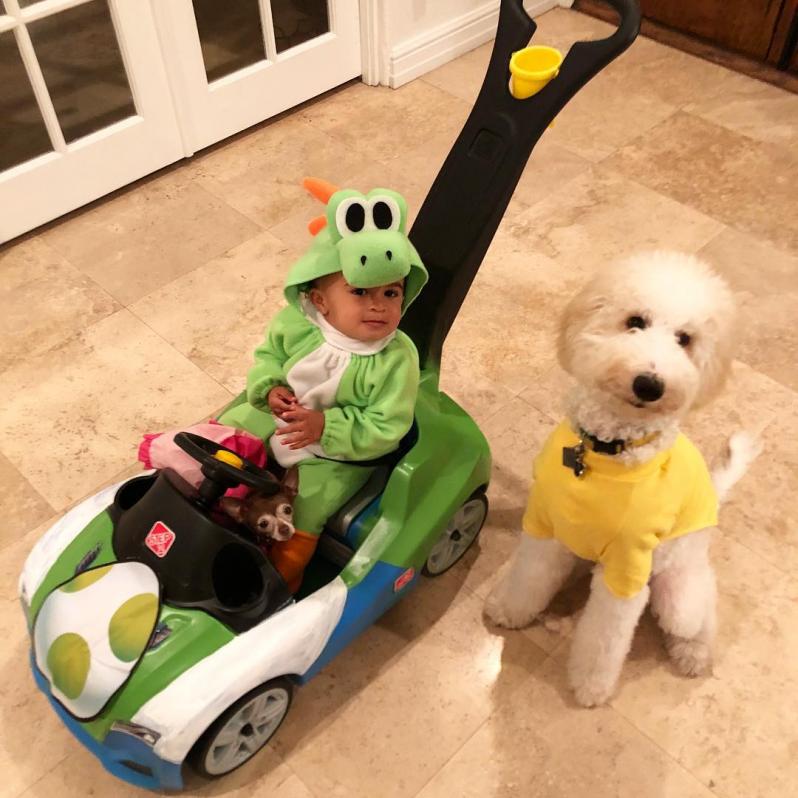 1
Fresh Prince Of Bel-Air
@sydneyleroux | Instagram
Sydney Leroux's family didn't stop with just one set of costumes for Halloween in 2017, also pulling out this amazing group outfit. Dom was Will Smith, Sydney was Hilary Banks and baby Cassius was a baby Carlton Banks from the "Fresh Prince of Bel-Air." All three fit the characters perfectly and full marks to Sydney for spelling Hilary's name correctly on the corresponding IG post.