The Columbus Crew Can End Liga MX's Champions League Domination
It's been over 20 years since MLS last prevailed, but Columbus has all the tools.
The 2021 CONCACAF Champions League begins on Tuesday, Apr. 6 with the beginning of the Round of 16. Since the competition's rebrand in 2008, all 12 titles have been won by Liga MX (Tigres won last year's edition). The question, as always, is when will MLS finally come to the table? It's a feat that hasn't been achieved since the LA Galaxy in 2000.
The usual excuse is still in play: Liga MX clubs are deep into the Clausura season with teams fighting for playoff positions, whereas MLS clubs are approaching the end of preseason with opening day scheduled for Apr. 17. This reality is especially brutal for Toronto FC, which plays its first competitive match of the season on Wednesday against reigning Apertura champion León. 
While that's the excuse, the reality is that Liga MX's premier clubs are simply better than their MLS counterparts. The Designated Player rule might add glamor to MLS sides, but it's always worth remembering that there's no salary cap in Liga MX, there's a lot more spending on the mid-tier level of the roster and, on the whole, wages in Liga MX are 20 to 30 percent higher than in MLS.
And while that's objectively speaking, we can solve for subjectivity by looking at something like the recent CONCACAF Olympic Qualifying Championship to see how Mexico — loaded with U-23 talent from Liga MX — won it all, whereas the USMNT — loaded with U-23 talent from MLS — finished in third place.  
But hope springs eternal for the majorest of major leagues, and buoyed by LAFC's run to the final in 2020, Columbus, Philadelphia, Portland, Atlanta and Toronto will all approach this year's tournament with cautious optimism. 
Factoring in talent, coaching and the road to the final, it looks like the Columbus Crew is this season's best bet for MLS redemption. 
3 Reasons Why The Columbus Crew Could Win The CONCACAF Champions League

 
#1. The Bracket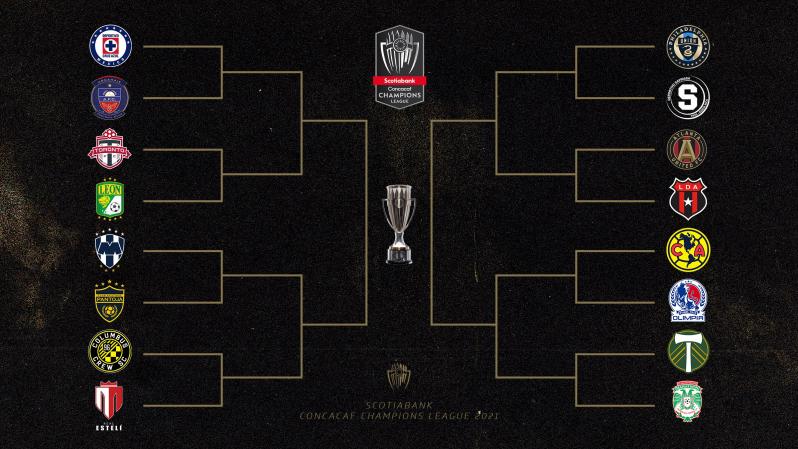 The Round of 16 first legs will be played Apr. 6-8 and the second legs fall Apr. 13-15. From there, the quarterfinal first legs take place Apr. 27-29 followed by the second legs on May 4-6. With the CCL then going on hiatus until the semifinals in August, it's clear that MLS sides really just need to navigate the first two rounds (read: avoid Liga MX powers) before gaining equal footing in terms of mid-late season form at the business end of the competition.
The only MLS side that faces Mexican opposition in the Round of 16 is Toronto against León, which should prove a hellish introduction for first-year TFC manager Chris Armas. Philadelphia and Atlanta couldn't possibly play a Mexican club (América) until the semis, although they could face each other in the quarters.
Columbus plays Nicaragua's Real Estelí in the first round — a club that hasn't appeared in this competition since 2017 and was ranked 15th in the draw (only Haiti's Arcahaie was lower). This was a very kind draw for the MLS Cup champion.  
If Columbus overcomes Real Estelí, it gets much more difficult in the quarterfinals with a potential matchup against Monterrey and Rogelio Funes Mori, but you're at least avoiding the two current giants of Liga MX: Superlíder Cruz Azul and second-place América.  
The Crew could only potentially meet América in the final, whereas Columbus' own route to the final could include a meeting against either León or Cruz Azul in the semis. 
Still, being on the opposite side of América and Henry Martín, Sebastián Córdova, Richard Sánchez, Sebastián Cáceres and Guillermo Ochoa is a blessing.     
#2. The Best Team in MLS 
As the reigning MLS Cup champion, Columbus earns this title by default, but Caleb Porter's side looks even stronger this season. 
The defense is anchored by Curaçao international Eloy Room, who posted the third-most clean sheets in MLS last season and the 2020 MLS Save of the Year. Captain Jonathan Mensah was an MLS Best XI selection at center back, and Argentina youth international Milton Valenzuela quickly established himself as one of the league's best left backs.  
With the Brazilian Artur and Darlington Nagbe, Columbus has two of the smoothest operating holding midfielders in America, and Perry Kitchen has been added from the LA Galaxy to provide more depth.  
Then there's a varied attack that boasts 2020 Newcomer of the Year Lucas Zelarayán, Portuguese playmaker Pedro Santos, USMNT forward Gyasi Zardes and new addition Kevin Molino. When the Trinidad and Tobago winger is healthy, like he was last year with Minnesota, he's one of the best in CONCACAF. 
21-year-old Romanian Alexandru Mățan should also prove an interesting watch as he joins from Gheorghe Hagi's Viitorul Constanța.  
#3. The Approach 
One key to making a deep run in the CCL is squad depth, and as was alluded to previously, Columbus has that. They also have a manager who's shown an ability to flourish in knockout competitions as Caleb Porter is now a two-time MLS Cup champion to go with the NCAA title he won with Akron.
Perhaps most importantly, Columbus players aren't just excited to be in the tournament (the Crew's first appearance since 2010-11), they genuinely believe they can go deep.  
"I will do everything to be the first MLS team to win this competition and make history with Columbus," Pedro Santos recently said. "We have that mentality. For me personally, it's a very important competition. It's prestigious, we can achieve a lot. It gives us the opportunity to play in the Club World Cup. The players need to have the mentality to win this competition." 
Those words were echoed by Derrick Etienne Jr., who said the team was looking forward to the obstacles they're bound to face in Central America and potentially Mexico. 
If players and manager are all in, you've got a legitimate shot at making it past the Round of 16 and quarterfinals, and then anything can happen. 
Now watch Columbus get CONCACAF'd by Real Estelí.