Christian Pulisic continued his recent transformation into a Florida Man with an epic juggle fail video while out big-game fishing. On vacation after winning a Champions League title with Chelsea and Nations League trophy with the USMNT, Pulisic has been in Florida, taking in MLS thrillers and swimming with the fishes. 
Pulisic was on the water with BlacktipH Fishing, which has taken such illustrious figures as Donald Trump Jr. out fishing. The group had caught an Atlantic goliath grouper on Saturday, a fish that can grow to 50 inches in length and weigh near 500 pounds. 
For Florida reasons, they decided Pulisic should teach the grouper how to play soccer. I guess we have to find some way to improve soccer in America that doesn't involve making it affordable. When attempting to do an around-the-world juggle, Pulisic lost his balance and fell into the water, landing on the fish, which was strung up helpless alongside the boat. 
Fortunately for everyone, Pulisic posted the video to Instagram.
View this post on Instagram
(The video is also posted here, if for some reason the above video doesn't work.)
Not sure who had it worse: Pulisic or the fish. 
Either way, Pulisic appears to be enjoying his offseason — and his Europe-based teammates are trying to figure out what in the heck he's doing. England winger Jadon Sancho, a former Borussia Dortmund teammate, commented moments before taking the field against Ukraine in the Euro 2020 quarterfinals.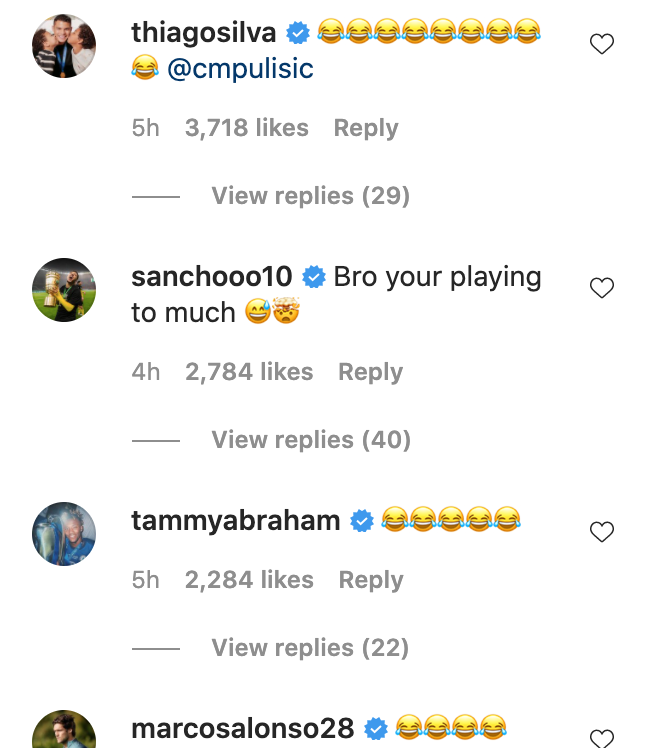 After helping the U.S. beat Mexico in the Nations League final in Denver, Pulisic's been spotted at MLS games in Austin and Fort Lauderdale. He wore his sunglasses at night like a true Florida Man while watching Orlando City beat Inter Miami in an entertaining 2-1 match.
He's also gotten a haircut from Matthew Hoppe and hung out with Fortnite stars, so life is good.
View this post on Instagram
What's next for Pulisic? He won't be playing in the Gold Cup this summer and the USMNT didn't qualify for the Olympics, so he's got no soccer obligations until Chelsea begins preseason. Hopefully the 22-year-old continues to have fun and recharge, but not too much fun, because the U.S. needs him healthy for World Cup qualifying, which starts in September. 
Usually in animal videos we try to confirm the animal was unharmed, but honestly we're not sure in this case. Based on other photos posted to the fishing company's Instagram, it's clear not all fish survive the hunt.
View this post on Instagram