With just over 130 days to go until the 2023 Women's World Cup in Australia and New Zealand, the hype within the host nations has already reached fever pitch. Australia's Matildas open play on July 20 against Ireland with a crowd of over 80,000 expected in Sydney.
The excitement around the event has only been amplified by the team's recent performances on the pitch, where Australia's riding a seven-game win streak that's included triumphs over Sweden, Spain and Denmark.
But the Matildas path to hosting and being a major force at the upcoming tournament has been a grueling journey — the program didn't even win its first World Cup match until 2007 — best exemplified by the ceilings that star players like Sam Kerr, Steph Catley and Hayley Raso have smashed while paving the way for next generation talents like Mary Fowler and Charlotte Grant.
Coached by former USWNT assistant Tony Gustavsson, the Matildas will make for must-watch viewing at the World Cup as they attempt to reach the semifinals for the first time.   
And here to ensure that Australia is at least everyone's second favorite team come the World Cup is Disney+.
On April 26, the streaming service is premiering a six-part documentary series titled Matildas: The World at Our Feet.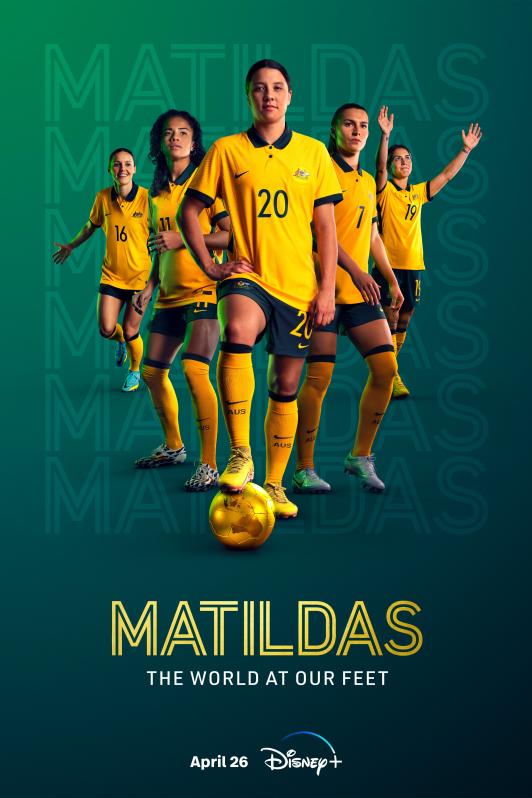 The synopsis: "Matildas: The World at Our Feet is an inspirational and intimate behind-the-scenes story of the CommBank Matildas – Australia's women's national football team. Following the stories of players including global superstar Sam Kerr, Ellie Carpenter, Mary Fowler and more, the Matildas reveal the sacrifices they've made and struggles they've endured as they strive to become the best in the world's most popular sport.
"Despite all their hardships, one goal follows them throughout — to leave a lasting legacy that empowers and inspires future generations to pursue their dreams. Across six episodes, join the players on and off the field as they work towards their biggest challenge yet — the FIFA Women's World Cup 2023 on home soil."
Hell yeah. We're really looking forward to this one, and so is Captain Kerr. 
"It's been an incredible experience sharing our journeys with Disney+, both on the field and off, and I can't wait for the world to see our true love, dedication and passion for the game and our country," she said.
Australia is back in action on April 11 with a friendly against England at Brentford Community Stadium in London.