The One Man Who's Been Able To Frustrate Cristiano Ronaldo Isn't Who You'd Guess
Valencia goalkeeper Diego Alves has stopped nearly 50% of the penalties he's faced in La Liga, including 3 of 4 from Cristiano Ronaldo.
Get the best email in soccer.
If you were to ask any football fan who the best penalty stopper in the world is, their answer would probably be pretty cliche: Manuel Neuer, David De Gea, Thibaut Courtois, Hugo Lloris, etc.
The true answer might surprise everyone. It's Valencia's Brazilian goalkeeper Diego Alves.  
Last Saturday, Alves' penalty save on Real Madrid's Cristiano Ronaldo was his 25th such feat since arriving in La Liga in 2007. Interesting enough, Alves has stopped three of four penalties from Ronaldo.   
MISSED PENALTY FROM @Cristiano! THAT MAN DIEGO ALVES IS AT IT AGAIN! #LaLiga pic.twitter.com/a9r3a9R9PL
Alves' penalty save percentage is remarkable. Since making his La Liga debut, he's faced a total of 51 penalties. Here are the end results:
Saved: 25
Scored: 24
Missed: 2 
A total of 51 penalties and he's stopped 25, which is a save percentage of 49%, a current La Liga record. If you take out those two missed penalties, that percentage increases to 51%.
Most world-class 'keepers struggle to save 20% of the penalties they face in their careers. In fact, the previous La Liga record was held by Santi Cañizares with a success rate of 23.3%. Considering that penalties are at least 75% in favor of the shooter, it's a true art form for a goalkeeper to save 23.3% of penalties, let alone 49%.  
How does he do it? Usually, there are three things that can aid a goalkeeper when approaching a penalty:
#1. Study the opponent's usual penalty taker to get an idea of how they like to take them (do they shoot it with power or place it with technique?), as well as any particular side they might favor.
#2. Practice reading the penalty taker's body motion to determine which side they're aiming for.
#3. Use psychological mind games that could possibly intimidate the penalty taker beforehand to throw them off. 
Diego Alves has become the best penalty stopper in the world using a mixture of these techniques, and he's also one of the best shot stoppers in La Liga from open play. 
It wouldn't be a surprise if one of the top clubs in the world comes knocking this summer. He might not be the starter, but he could be a worthy backup that can do the job whenever he's called on. 
He'd also be extremely useful if there was a penalty shootout and you kept a substitution handy. 
Related: Gianluigi Donnarumma's Performance Should Absolutely Terrify Juventus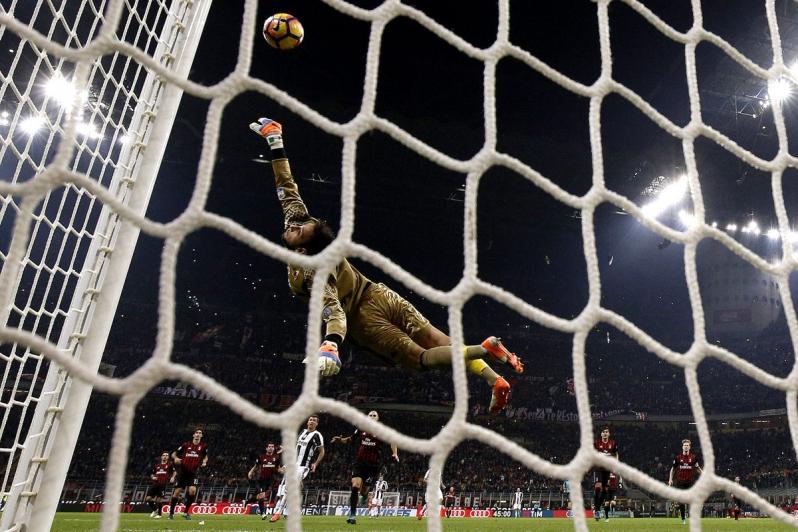 Bookmark/Search this post with