Mohammed Al-Hakim might be the bravest referee in the world. Al-Hakim, who works in the Swedish top division, has created a Facebook page where he explains various decisions he made during matches.
Ostensibly, this sounds like a grand idea, a way for referees to better connect with fans and perhaps come to some kind of understanding. Case in point: the long and we're sure (although we can't read Swedish) well explained post below: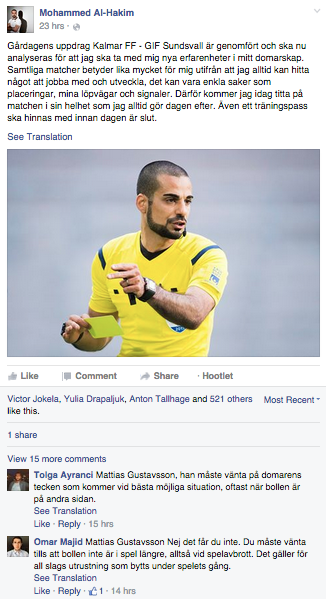 Unfortunately, this is the Internet, where there is no such thing as "some kind of understanding." But there are such things as trolls. Next case in point, below:
And that's just one of 24 comments on that particular post. Ouch.
Don't get us wrong. We hope this works, but it's a long shot. Sweden, where the fans aren't as bloodthirsty as, say South America, is probably a good place to try it out. Don't expect every ref to have a Facebook page in the future, though. The trolls are out there.
Contact The18 Staff Writer Sam Klomhaus at Klomhaus@The18.com or follow him on Twitter @SamKlomhaus
Bookmark/Search this post with