A Modern Classic: Interviewing Sam Garzon, The Founder Of Unozero Soccer Cleats
In a market that's dominated by industry giants, it's difficult for smaller cleat brands to make an impact. Many have tried to redefine the cleat by removing its laces, adding a special "strike zone" or using a unique stud pattern, but when you boil all those features down, Sam Garzon and his team at Unozero only see a collection of gimmicks. 
Unozero is a high-end soccer brand that aims to provide a modern take on the classic no-nonsense cleats of the past. Handcrafting each cleat in northern Italy and using only the finest kangaroo leather, Unozero markets itself to serious players who want an elegant cleat with a subtle design that allows their play on the field to do all the talking.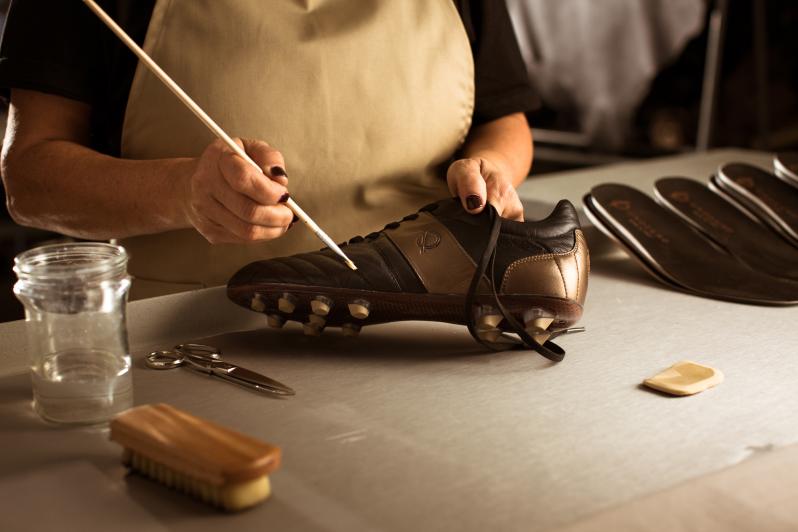 Earlier this month I spoke with Unozero founder Sam Garzon about himself, his cleats and his competition.
What inspired Unozero's conception?
That's a good question. It really comes out of a personal need, and it goes way back to when I was a kid. I would buy a pair of cleats at the beginning of the season, and I would fall in love with that boot brand. I remember drawing pictures of the cleats on my notebooks at school but very quickly I would stop being in love with that brand because they were not a true soccer brand. 
Now what do I mean by that? I would see my 4-year-old cousin wearing pajamas of the same brand. I would see my grandmother wear slippers from the same brand. I was very disappointed I could not find a true soccer brand, rather it was more of an "anything anyone brand." 
Fast forward 20 plus years, when I'm in my late twenties/early thirties. I go to a store to buy a pair of cleats, and I knew what kind of boots I wanted to get, but when I get there I see two colorways — neon green or bright red. I was looking for something more serious but I couldn't find that. 
If I wanted to something more elegant, I would have to wear an old looking boot that had not really been updated for today's level of play. There was nothing there for the serious player. The goal was to combine those two pinpoints (elegant and serious) which would bring to market a true soccer-centric brand, one that caters to the serious player by offering high quality premium performance soccer cleats. That's where Unozero comes from. 
What is your soccer background?
I'm from Venezuala in South America. In Venezuala soccer is kind of like a religion and you can say that I embraced it at a very young age. I started playing when I was three years old. I played competitively growing up and throughout high school. 
I was lucky to get offers from professional teams back home to join their youth teams and academies. I coached youth soccer in the U.S. and back in Venezuala and I continue to play to this day on a casual weekend team. To me, soccer is something more than a sport, it's my happy place.  That's my soccer background. I've always played the sport and I really love it. 
Explain a little bit about the construction process.
It's actually a pretty beautiful process. It all starts with the end product in mind, which is producing a high quality boot with a superior fit, because for us, the fit is what makes a boot really good. 
We start with the material selection, where only the highest grade materials make the cut. We take the leather which is treated and cut, and then we layer the pieces of the outer and we add padding for comfort. We then add reinforcements between the layers so there is no overstretching of the leather, which is a common problem with leather boots — as over time they tend to get too wide and too soggy — so we mitigate that by having some reinforcements between the layers. 
We then hand-stitch all the pieces of the upper and they go onto the last, which shapes the shoe. We chose a fabricy shape so we could give this elegant boot a modern look to it, which provides the fit to our boot, and again, to us fit is very paramount. We then assemble the upper with the outsole, we carefully inspect every single aspect of the shoe from the studs to the laces, the tongue, every little detail matters, every single piece is really important to us.  
We box it, pack it, ship it and it's ready for game time.
Here's a video breaking down Unozero's entire process: 
How did you select your shoemaker? Why Italy?
Actually, it was a long process. We searched through many different continents: Latin America, North America, Asia, Europe. It took a long time and we really found out first-hand why Italy has the reputation that it does when it comes to quality and how nobody comes close to their attention to detail. It's something really special. 
In Italy, we found a wide range of production quality but we knew the level of production quality we wanted, and luckily we found our perfect production partner in northern Italy, and one of the things they bring to the table beyond just exceptional manufacturing is the fact they have worked with the best players in the game for decades, so our players and our customers are getting the same quality build that the pro players do, so that's something really special. 
As a soccer player, I would see a pair of cleats that come out to the market, and I would try them on and think "oh no, these fit horribly," and we really wanted to make sure that didn't happen with our cleats, so we worked really hard with RND to assure that we made a cleat that fits to most players.
What type of player wears your cleat?
We focus on the serious player. When we say a serious player, we are referring to a player that understands soccer and is really interested in getting a well-built boot with a superior fit. 
Unozero offers style without really being flashy. We say that our boots are a modern classic just because we respect classical elements of older boots and use those elements to make a modern performance boot. We take the classic boot, which is handmade with kangaroo leather and conical studs, and we make it modern by adding some bronze leather elements to make it more relevant.  
We also use a modern last that really gives it a fast-looking boot shape. We couple that with a modern soleplate which provides flexibility in the forefoot and then stability in the midfoot, and the counter, the heel area, which is actually the correct technical balance in a performance boot. 
You know when you see people making their cleat into a 'V' shape or a 'U' shape, that's actually very dangerous, you don't want that. We make sure we have flexibility in the front but stability in the rest of the shoe. Also, just going back to the fit, if you consider fit to be paramount, then this is a boot for you. 
Once you put the shoe on you can feel how your heel fits very comfortably inside the shoe, it stays in place, you get great lockdown. You also feel how your foot, in a way, gets wrapped around and hugged by the kangaroo leather. Over time, the leather molds to your foot in a way that feels like you are getting a custom-like fit, something you can't get with a synthetic boot.  So if you value all these attributes, then Unozero is for you.
What do you think kangaroo leather offers that synthetic material doesn't?
It's a combination of benefits, and our focus is on the fit and protection. Leather molds to your foot over time — plastics just don't really. On the other hand, you have some lighter synthetic materials like the knit which does to some extent provide a molded fit, but it offers very little protection, and that's actually pretty dangerous. Soccer is a contact sport, kangaroo leather is very strong, yet it is also soft and light. 
There is a reason why kangaroo leather has been around for so long. It is still the preferred choice by a lot of footballers, amateurs and pros alike. 
How do you aim to compete with the major names like Nike, adidas and Puma?
Let me start by saying that we believe that the timing for a brand like Unozero is long overdue. We compete against the major names by highlighting how we defer from them. Luckily for us, nowadays all the big brands have the same flavors: The same bright colorways, the same materials, the same messaging, the same manufacturing process, and all that really helps us position ourselves. 
While other brands are everything to everyone, we are true soccer-centric brand that is only focused on offering high quality performance soccer cleats. That may sound very simple, but it is actually very significant. We are a true soccer-centric brand. 
There are some brands that preach "mega speed" or "lethal power," we shy away from empty taglines like that. Instead we focus on craftsmanship, detail, superior fit and ultimately producing what we consider an honest boot that lets the player perform at their true peak level with no gimmicks or compromises. 
Our philosophy is "the better the fit, the better the control and the better you play," and that philosophy is really what sets us apart. 
While others mass produce, we actually produce in small batches in Italy in order to ensure high quality standard.  As I mentioned earlier, our shoes are made by the same shoemakers that work with the pros so you are really getting a high quality build. 
One thing that we're really proud of is that we don't use our players as marketing billboards. Nowadays the brass will take up significant shoe real-estate with huge logos while we contrast that by using discrete branding on our cleats. Our embossed and stitched logos are color on color so you can't really see them unless you are wearing them. 
When you are a serios player, you have no need to show off. These players wear Unozero because they get it. The last thing I want to mention is our fit, which for us is pretty significant and is truly superior to the competition. As soon as you put our cleats on you feel the difference. That's what we hear from our players, and that's what makes us really happy. 
What player embodies Unozero's philosophy?
When I was envisioning the creation of Unozero, I think there were elements of multiple players that make up that unique player that embodies our brand. 
I'll start with Pele, the king. His ability to win at such a young age all the way to his retirement, winning the World Cup three times. On and off the pitch he was a major inspiration for all of us at Unozero. But then you also have touches of Zidane, his finesse, quality, sublime control. And then you have Maradona, focusing on his on the pitch performance of course, haha. 
And finally Ronaldinho. His joy for the game is really unrivaled, and I feel he would appreciate what this boot has to offer. I think those players that define that identity of that number 10 that we are trying to bring to market.
Where do you see Unozero in five years?
We see Unozero as being a household member of the industry, being offered in stores both retail and online. We are a company that is breaking and will continue to break into a highly consolidated market, and I think it will open the door for other specialty soccer brands to enter the market as well.  
If we are able to do this successfully, it will open the door for other players to also join the industry — not just with soccer cleats but with other soccer products, and I think that is very healthy for the industry considering the current highly consolidated marketplace.  
Ultimately I feel Unozero continuing to experience healthy organic growth, becoming the divergent, unique, stable and special brand that it is, and that's where I want to be in five years.
The name of your current model, the Modelo 1.0, implies a sequel sometime in the future. Are there any developments in terms of future releases?
Absolutely. We do plan to offer additional models as well, however, we are very thoughtful and careful with our releases. We won't play that flavor of the month game that is being played by other brands. We only release products when the time is right for both Unozero and the market. So what I'll say to that is stay tuned.