Tottenham Sucks, Says New Tottenham Sponsor
The new Spurs sponsor has a cute doggo and a vicious Twitter admin.
"Banter club" is a common insult, but it's 100 percent true for Tottenham Hotspur. How else do you explain the North London club's recent acquisition of a paint sponsorship that's already gone awry.
Spurs announced a new sponsorship deal on Thursday morning with paint company Dulux, the first official paint supplier of the Premier League club. Within hours Tottenham was forced to make fun of itself to save face after the new sponsor spent the morning making fun of Spurs on Twitter.
We are delighted to announce @duluxuk, the nation's number one paint brand, as our first ever Official Paint Supplier.#THFC ⚪ #COYS
Tottenham created a partnership with a company whose Twitter admin appears to be an unabashed Arsenal fan. After posting photos of the company's adorably fluffy dog mascot touring Tottenham Hotspur Stadium, the Dulux account repeatedly mocked Spurs.
It's the perfect match - Dulux has become the first ever Official Paint Supplier to football giant Tottenham Hotspur!

— Dulux UK | Colour & Inspiration (@duluxuk) April 15, 2021
The @Dulux account responded to a few replies by mocking Tottenham's defense and lack of trophy success. The club's last major trophy was the League Cup in 2008 and last trophy anyone cares about came with the FA Cup in 1991. Though the tweets were quickly deleted, this is the internet so of course some brave heroes grabbed screenshots to save for posterity.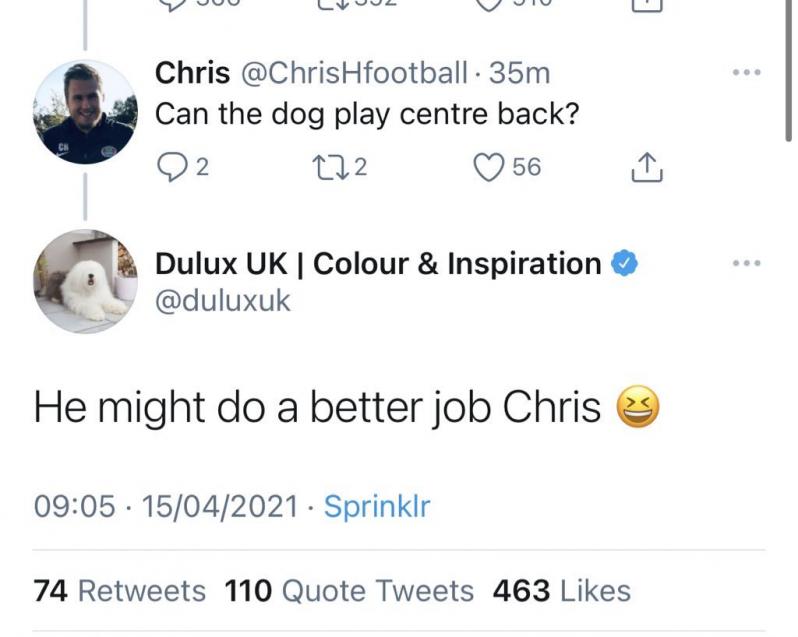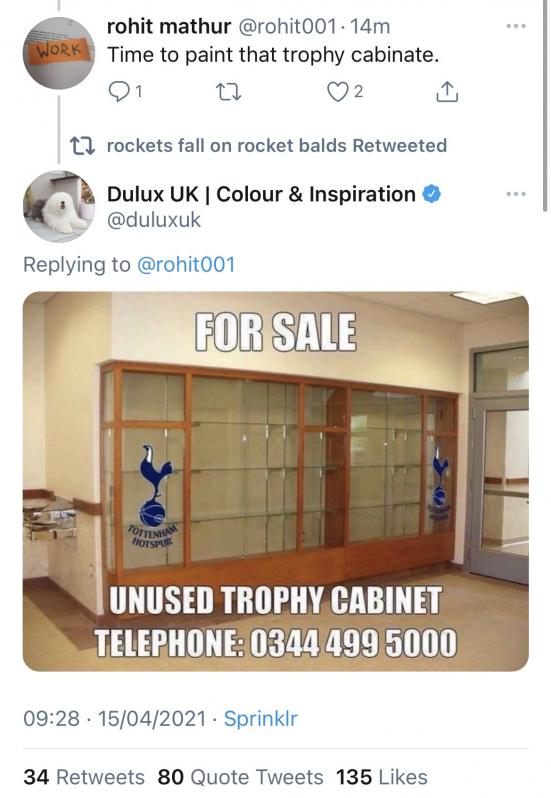 Dulux made a hasty apology, which I think Spurs tried to make a paint joke out of.
We'll gloss over it this time... https://t.co/h8MkvJ8FBi
Whether it's Steak-umm beefing with Neil DeGrasse Tyson for no apparent reason or any Bundesliga club's English account, it seems everyone these days needs a brash Twitter admin to draw attention to itself in hopes of gaining new customers. But don't worry about the @Dulux admin's well being, because he or she already has job offers lined up.
@duluxuk if you fancy a job with us our DMs are open. From one admin to another
Let this be a lesson to all soccer clubs looking for sponsorship deals: Check the tweet history before you sign the deal. Had Tottenham done its homework, it would've known the Dulux account was an Arsenal supporter.