Damn, and just like that it's over. After Sunday's defeat to Nottingham Forest left Leeds above the relegation zone on goal difference, the club announced the end of manager Jesse Marsch on Monday. The American is survived by his three sons, Tyler Adams, Brenden Aaronson and Weston McKennie.
The "run fast, try hard" DNA of the USMNT is still clearly embedded at Elland Road with this large contingent of expats, so the smart way forward would be to trust the process at Major Leeds Soccer. The problem wasn't an American manager, it was the wrong American manager.
If Leeds is going to continue to operate as La Fábrica of USMNT player development, then the West Yorkshire-based club should look to one of these five Americans to push the team forward. 
5 American managers to keep the good times rolling at Elland Road
#1. Gregg Berhalter
It's been frequently said that the USMNT's four performances in Qatar were better appreciated outside of the U.S. because of the hypercritical eye on Berhalter domestically. 
The 49-year-old's tactics in the 0-0 draw with England enhanced his reputation there while earning praise from Gareth Southgate. Berhalter's time as USMNT head coach appears to be over, but he maintains a great relationship with Adams, Aaronson and McKennie — it'd be showtime if Berhalter ever got Leeds into Europe against Gio Reyna's Dortmund.
U.S. fans will come to appreciate Berhalter's work after a summer spent with interim manager Anthony Hudson, and Berhalter won't be daunted by Leeds' lack of a dependable No. 9. He's never had any use for one of those things. 
#2. Steve Cherundolo
Marsch's sacking anoints Cherundolo as "The Chosen One" of American soccer managers. The 43-year-old was a pioneer abroad with 370 appearances at Hannover before working there as an assistant coach and with Stuttgart. 
Cherundolo was named LAFC manager last year and promptly delivered a Supporters' Shield and MLS Cup double. If Cherundolo's hired, he can bring Kellyn Acosta, Aaron Long and Giorgio Chiellini with him.
Maybe even Gareth Bale could be coaxed out of retirement after missing out on the final round of the Pebble Beach Pro-Am. 
#3. Andy Reid
If Leeds want to go full Ted Lasso — and they could really cash in on the timing with Season 3 coming out this spring — then I've come to the conclusion that 64-year-old Kansas City Chiefs coach Andy Reid is the best option. He's the kind of coach who believes in people, who makes them feel seen and appreciated — he's the only one who can get Patrick Bamford scoring again.  
If the Chiefs win this weekend's Super Bowl, Reid might be tempted into a new challenge. With Leeds struggling for goals and Rodrigo out for two months, the club needs an offensive guru with fresh ideas. He can also draw a mustache on Illan Meslier. 
#4. Joint managers Peter Vermes and Jim Curtin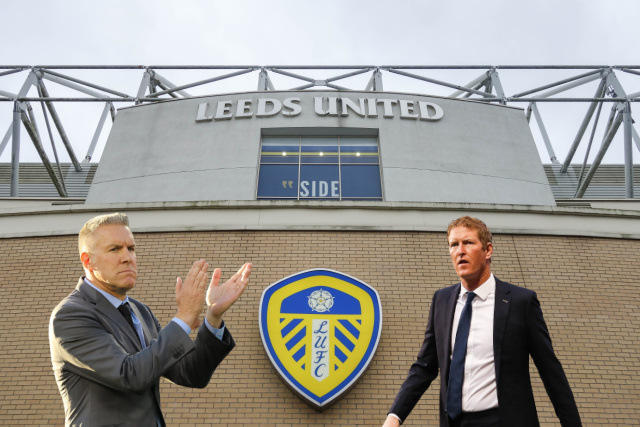 When talking about MLS managers who deserve a shot at the big time, the league's two longest-tenured coaches — Vermes of Sporting KC and Curtin of Philadelphia — are always lumped into the discussion.
Why not combine these two great American minds with a joint-manager experiment? This approach to co-coaching used to happen more often in the 90s, but forgotten tactics and philosophies have a tendency to resurface as things go full circle.
#5. Pedro Pascal
Born in Santiago, the Chilean-American actor would be an exceptional leader based on what I've seen from The Mandalorian and the new hit drama series The Last of Us. Pascal thrives when teamed with a sidekick, and we could see him forming an oddly charming relationship with Jack Harrison. 
You could also get a film crew in there and make a show that blows Welcome to Wrexham out of the water with Pascal's acting chops.