FIFA 21's Top-Rated Women Show EA Sports Hasn't Watched Any WoSo This Year
Even the top-rated player agrees she's not the best in the world right now.
Every year, a lot is made of the new FIFA ratings. Most of the focus is on the men's players, with FUT becoming a cash cow for EA Sports. But taking one look at the FIFA 21 women's ratings makes it clear no one at EA watches much women's soccer. Even the top-rated player agrees she's not the best right now.
All the world's best are here 

See the highest-rated women in #FIFA21: https://t.co/NHPMb2ZQxa pic.twitter.com/RMoySqKVbH

— EA SPORTS FIFA (@EASPORTSFIFA) September 18, 2020
Top FIFA 21 Women's Ratings
Megan Rapinoe - United States - 93 OVR
Samantha Kerr - Australia - 92 OVR
Wendie Renard - France - 92 OVR
Vivianne Miedema - Netherlands - 91 OVR
Amandine Henry - France - 91 OVR 
Dzsenifer Marozsán - 91 OVR
Lucy Bronze - England - 90 OVR
Eugénie Le Sommer - France - 90 OVR
Caroline Graham Hansen - Norway - 90 OVR
Tobin Heath - United States - 90 OVR
Alex Morgan - United States - 90 OVR
Lieke Martens - Netherlands 89 OVR
Almuth Schult - Germany - 89 OVR
Christine Sinclair - Canada - 89 OVR
Julie Ertz - United States - 88 OVR 
For the second straight year, Megan Rapinoe is the top-rated women's player in FIFA, which doesn't make a lick of sense to us right now.
Let's be real: Megan Rapinoe is one of the world's best players. She deservedly won the Ballon d'Or and Best FIFA Women's Player awards in 2019 after guiding the USWNT to a Women's World Cup title, so it was no surprise she was the highest-rated player in FIFA 20. 
But Rapinoe hasn't played a competitive match since March, having sat out of the NWSL's Challenge Cup and Fall Series while also eschewing a chance to join many of her USWNT teammates in Europe. At 35 and having been out of action for six months, how can FIFA seriously consider her the top-rated player in the world? 
To be clear, this has nothing to do with her support for human rights like Black Lives Matter and the LGBTQ+ community, nor does it have anything to do with her politics. This is simply a matter of taking women's soccer as seriously as men's soccer, something EA Sports clearly doesn't understand.
Even Rapinoe disagrees with the rating.
Yes! I agree . I am not the best (1 of them tho ) this is another example of the underinvestment, resourcing, and attention paid to women's football. We need more games on TV, bigger budgets, and fairer coverage by the media. #equality https://t.co/83A97bSzu2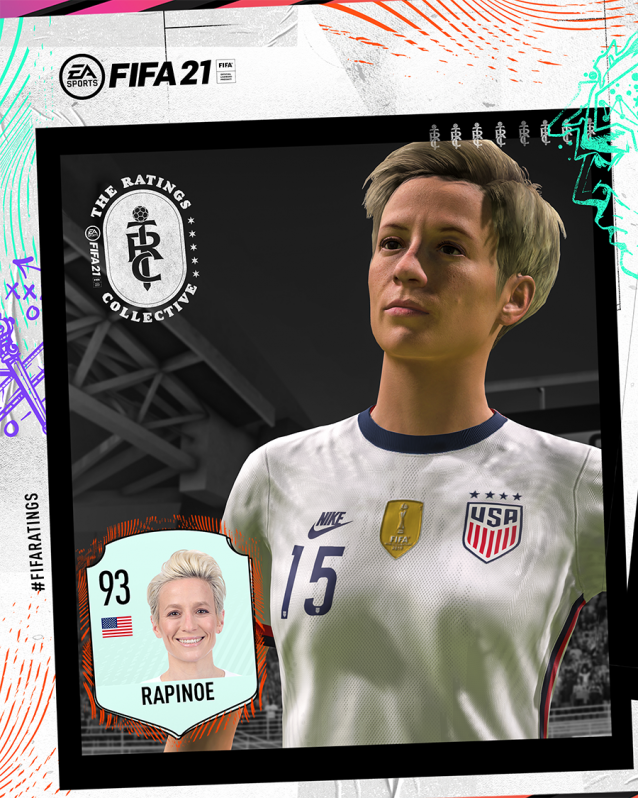 Looking further down the top FIFA 21 women's ratings, we see another player who has yet to play a single match this year: Alex Morgan. The USWNT superstar gave birth to her first child in May and didn't play in the NWSL Challenge Cup. She recently moved to Tottenham, a middling Women's Super League club, instead of playing for the inept Orlando Pride in the Fall Series. While it's likely Morgan will return to being one of the best players in the world, it's a bit presumptive to put her in the Top 15 right now, especially considering those around her. If she can be a 90, the injured Ada Hegerberg should be a 91.
Aside from Rapinoe, we have to say the Top 10 FIFA 21 women's ratings aren't too bad. Sam Kerr and Wendie Renard deserve to be in the top 3, and no one can tell me Vivianne Miedema, Amandine Henry, Dzsenifer Marozsán, Lucy Bronze, Eugénie Le Sommer and Caroline Graham Hansen aren't top, top players. 
View this post on Instagram
But hey, where's Julie Ertz? Oh, way down at 15, rated 88 overall. 
Ertz is arguably the USWNT's most important player. She has an unparalleled skill set, combining superb technical abilities with size, speed, strength and an insane competitiveness that raises the play of all around her. That she isn't considered a 90+ player is shocking. 
Similarly, Christine Sinclair, the highest-scoring footballer in international history men or women, is rated 89. Sure, at 37 she's no longer as potent as she once was, but if you're keeping Rapinoe at 93, Sinclair should be at the very least in the 90s. 
Finally, who in their right mind doesn't have Crystal Dunn in their Top 15? The USWNT star could be one of the best strikers in the world but instead is used mostly as a versatile utility player for the USWNT. I know FIFA likes to give forwards higher ratings, but Dunn absolutely deserves to be among the best-rated women's footballers in the world. 
Rating players is hard and there's no way everyone will always be happy. But it appears as though EA Sports just copy and pasted last season's ratings for the FIFA 21 women's ratings with no regard for current form, which just goes to show how little EA cares about women's sports.