The Daily Mail Just Said The New England Revolution Won The Super Bowl
They really can't get past the football/soccer thing, can they?
Get the best email in soccer.
The New England Revolution lost in the MLS Cup final, but according to British newspaper The Daily Mail, they got a hell of a consolation prize: the Super Bowl.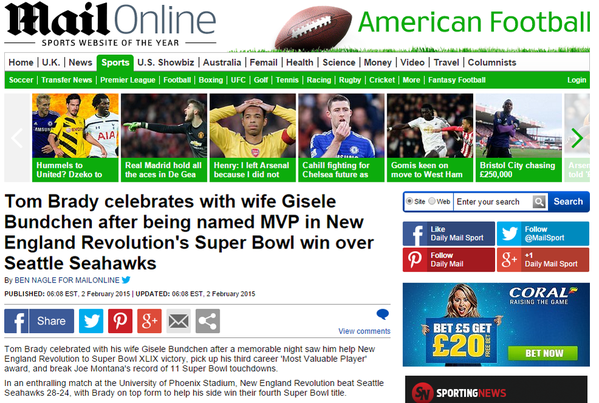 (@FOXSoccer | Twitter)
Well, good for them. It's nice to see them finally win the big one, although it's not the one that they were aiming for. 
The New England Revolution are referenced three times, and for those of you who live under a rock, or work for the Daily Mail, the game was actually won by the New England Patriots, the American football team, not the New England Revolution, the soccer team. 
Seriously, though, the Mail Sports website claims to be the "sports website of the year" and also contains this sentence: "In an enthralling match at the University of Phoenix Stadium, New England Revolution beat Seattle Seahawks 28-24, with Brady on top form to help his side win the Super Bowl title."
Enthralling, huh? Obviously not enthralling enough to get the teams correct. Yeesh. At least the score was accurate. 
@SamKlomhaus
Bookmark/Search this post with